Welcome
Welcome to the Harrison-Agassiz Chamber of Commerce.
The Harrison-Agassiz Chamber represents the business interest of two dynamic and different communities: Harrison Hot Springs and the District of Kent. Harrison Hot Springs, a small village in the big outdoors has been a premier resort destination for over a century and offers access to the largest fresh water lake in South Western BC. The District of Kent, is the hub for agricultural activity in the eastern Fraser Valley and is the "Corn Capital" of BC.
The 2016 Business Excellence Awards takes place Saturday February 20th at the Harrison Hot Springs Resort & Spa.
These awards will be presented to local businesses that have proven to be outstanding in their field of expertise. Click the button below to vote for your favourites!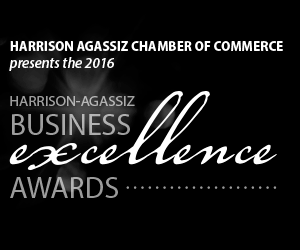 As the "Voice of Business", the Harrison-Agassiz Chamber of Commerce has been serving the needs of the business community in the Kent District, Harrison Hot Springs for more than 25 years. We are a non-profit, non-government organization with nearly 100 members comprised of businesses, professionals and associations who have joined together for the purpose of promoting the civic, commercial and Tourist interests of our community.
The Chamber offesr a wide range of benefits including:
Chamber of Commerce Group Insurance

- extended health & dental plan for Chamber members

Versapay - special low rates for chamber members

Petro Canada Superpass - 2 cents off per liter (minimum 200 Liters per month)

Staples Advantage - special chamber pricing on office supply

Esso Imperial Oil - 3.0% dicount on fuel & other products (minimum $1,500/year or 3000 liters)

Shell - 2 cents off per liter with a Shell Commercial Credit card

Payworks Online Payroll Service - special Chamber package

Chamber Learning Network - online training at discounted rates

Constant Contact - on line email, events & aurvey program

Hotel Discounts - exclusive hotel discounts
Have any questions about this site or any questions about the Harrison-Agassiz Chamber of Commerce then please reach us by email at info@harrison.ca
Follow us on Twitter to stay on top of whats happening in Harrison and Agassiz.